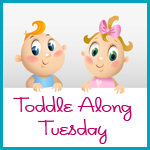 It's Tuesday
! Errrr Monday night!!
Not a mistake that Blaine's first word was Dada! It took me about a month to be CONVINCED that he was using it in the right context. But he definitely uses it right! Nick is Blaine's hero!
Nick REALLLLY made Blaine's day today when he took 1/2 day off of work to spend the afternoon with the birthday boy! Love watching their relationship grow!